Phone Graham Thompson
01202 430733
WhatsApp m 07854 091094 email
LIYU Platinum Q2
2 metre Roll to Roll and 3x2m Flatbed
Hybrid Large Printers

LIYU Platinum Q2 UV hybrid large printer has superb print and build quality, latest RICOH GEN 6 heads and prints up to double the speed of our main competitors. The Q2 is offered at a substantially lower price, starting from £495pw.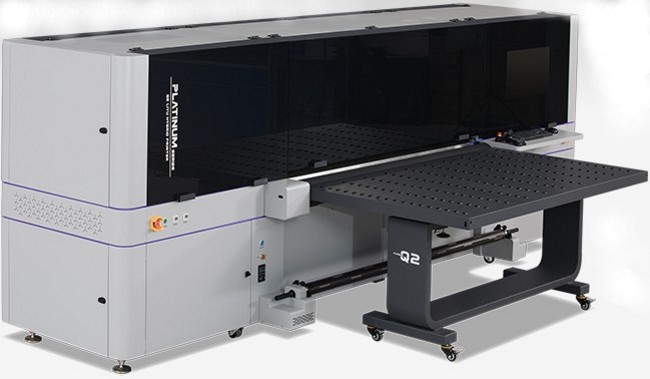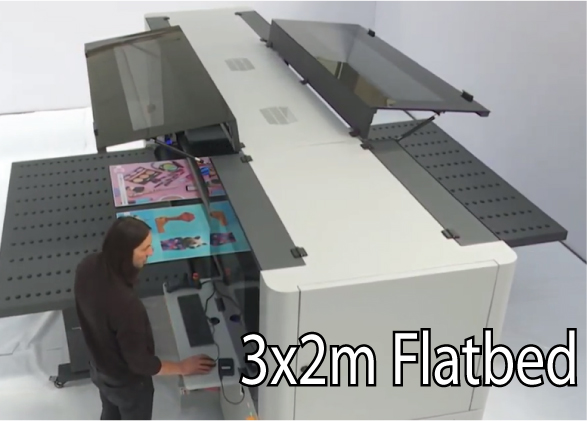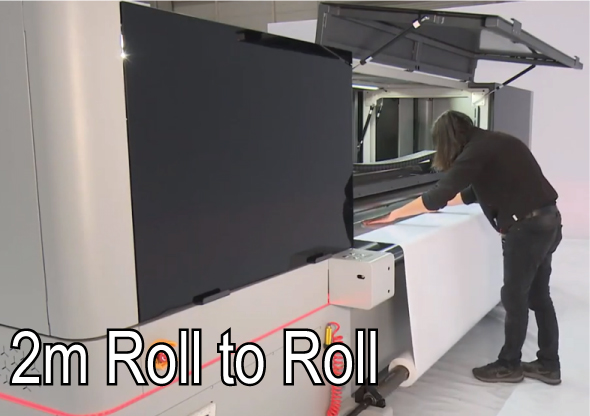 The LIYU Platinum Q2 UV hybrid large printer is super fast, printing up to 100 square metres per hour, at very high resolutions between 1200 and 2880 dpi on rolls of material or sheets of boards, glass or acrylic etc.
The LIYU Platinum Q2 hybrid (roll to roll and flatbed) large printer, prints perfectly at high quality on a wide range of material applications to suit to sign makers, screen printers, display makers and large format printing companies for printing on to paper, card, pvc banner material, canvas, self adhesive vinyl, acrylic sheets, pvc, glass, forex, foamex, polycarbonate, pvc coated mesh, one way vision, mdf, fibreboard, billboard media, wood, dibond aluminium and more up to 50mm thick. It makes the perfect partner for the Platinum Q Cut cutter.
The Platinum Q2 UV hybrid large printer prints on rolls of material up to 2050mm wide and flat sheets up to 3x2 metres.
| | | |
| --- | --- | --- |
| Dibond | Aluminium | Alupanel |
| Perspex | Plexiglass | Acrylic |
| Vinyl | Foamex | PVC |
| Paper | Card | Corrugated Cardboard |
| Canvas | One Way Vision | PVC Coated Mesh |
| Tyvek | Billboard Paper | PVC Banner Material |
| MDF | Fibreboard | Polycarbonate |
| Glass | Wood | Ceramic Tiles |
| Correx | | |
| | | |
Excellent finance packages for the LIYU Q range of printers and cutting machines.
Don't forget to take advantage of government capital allowances on new equipment purchases - by saving up to 30% off the purchase price. Speak to Graham
Technical Specification

LIYU Platinum Q2 UV Hybrid Printer
*Print heads: Konica Minolta 1024i - Ricoh Gen5/Gen6 pinpoint accuracy
* UV - LED curing - high powered liquid cooled LED curing, low energy costs
*Colour scale cmyk + white + varnish + light cyan + light magenta
* Ink - UV - LED
* Print speed up to 100 square metres per hour
*Print height 50mm
*Print resolution 2880dpi - 1200dpt - 2400dpi
*Print width 2050mm
*3x2 metre flatbed
*Power requirements - 230v (+/-) 10% / 40A / 50HZ / 60HZ
*Two year fast response LIYU UK warranty
Installation, Maintenance & Field Service
Printers supplied by LIYU UK nationwide team of experienced engineers and application specialists, who carry spare parts for the printers.
Next Step: For a quote, advice on, arrange a demo, or to place an order for LIYU Platinum Q2 UV hybrid large printer, please phone
Graham Thompson on
01202 430733
WhatsApp m 07854 091094
or send an email
HOME See the whole range of LIYU roll to roll, flatbed and hybrid UV and solvent large printers
Click Here